Fields and Dennis LLP Holiday Party Featured in Mass Lawyers Weekly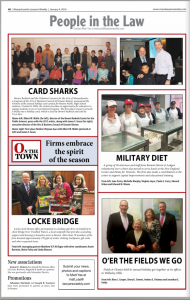 Massachusetts Lawyers Weekly featured a photo of Fields and Dennis's annual holiday party, in their January 4th edition (picture at bottom right). A great way to remember a festive evening, come January.
Many thanks to Mass Lawyers Weekly for featuring the gathering, which was held at our offices in Wellesley Hills in November.